Breeder of third generation Minuet and Minuet Tall cats, the pride of cat lovers, and the kings and queens of the cat world.
Getting a kitten is a big deal and can be a little daunting. We would like to make it as pleasant an experience as possible. Communications is key in that respect, and we encourage you to contact us with any questions you have about the process.
We are committed to producing the best third generation Minuets out there, which means that our kittens will have parents and grandparents that are nothing but Minuets. At this time, it is acceptable to use Munchkins and the Persian breed group to produce Minuets, and this is completely fine. Eventually, the standards may faze out using the foundation breeds and our breeding program was modeled for that eventuality. Since our cats are second-generation Minuets, all our kittens will be third-generation Minuets. We guarantee that our kittens are purebred Minuets and will all be registered.
Please be aware that Minuets having the Persian breed group and Munchkins as parents and grandparents are completely acceptable and can still be show cats. The use of these breeds is done to implant certain traits and to expand the gene pool of the Minuets.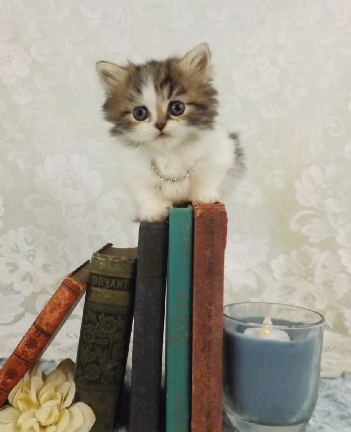 To get a kitten from Tiny Lions Napoleons, we do not require a deposit to get on a waiting list. However, once you wish to reserve a kitten from a litter, we require a non-refundable deposit ($100 for Minuet Tall kitten and $200 for a short kitten) to put your name on that kitten. Anyone can get on our Litter Update List to be kept informed of when litters become available. Those who are on our Litter Update List will get in depth updates on our breeding plans and first choice of our kittens. Please be aware that we do not provide kittens on a first-come, first-serve basis. We find the best family for each of our kittens.
The cost of our kittens is as follows:
Minuet Talls (long legs): start at $1200 (including age-appropriate vaccinations, health exam, microchip, registration, etc.)
Minuets (short legs): start at $2500 (including age-appropriate vaccinations, health exam, microchip, registration, etc.)
The cost of each kitten is dependent on color, lineage, and conformation to standards. Cats that display show quality traits will run a little higher. We prefer to sell only kittens as pets, but on very rare occasions, we have sold quality kittens to a breeder that we agreed with their breeding program. Such a breeding program included their cats being family members. Learn more about getting any kitten from us on our Tiny Lions Kittens page. You'll see everything you get with your kitten.
If you wish to get on our Litter Update List, you will have to fill out a Questionnaire. Only a few breeders require this, but we are concerned about where our kittens go after they leave us. Minuets are very resilient and adaptable cats, and having other pets in the house will not prohibit you from getting a kitten from us. The questionnaire will help us understand your living situation, as well as to give you a chance to reflect on the consequences of bringing a Minuet into your home. We want to make sure that you are certain about bringing a kitten into your life. Getting a kitten should be a decision you are firmly committed to. The questionnaire will help you make that decision. In addition, we can review your answers and give advice on how to incorporate your new kitten into your family. To fill out the Questionnaire, click here.
If you have any questions, please don't hesitate to contact us at:
Home: (719)687-4484
Cell: (305)333-3186 (call or text)
Or email us at: cmrudy337@gmail.com
Questionnaire for prospective buyers
Contract for purchasing a kitten
Check out our available kittens and upcoming litters on our Available Kittens page.
Shipping Information
Taking your kitten home is another matter to consider. Due to the stress that shipping in cargo causes kitten, we will not allow that option. You may either pick up your kitten in person or have someone else do it for you. Or, for an added amount, we will deliver your kitten to you if you live within the United States. International buyers should scroll down to see the requirements for purchasing a kitten from us.
We are located an hour outside Colorado Springs, which has the closest airport, and two hours away from Denver International Airport. We would be available to meet you at either airport to hand off your kitten to you.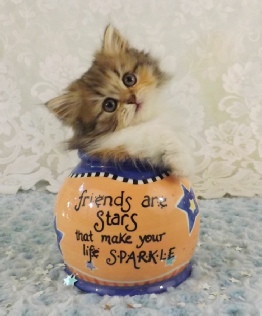 Going Home
Once you reserve your kitten, you will receive updates, videos, and pictures of his or her development until he or she reaches at least 10 weeks of age.
The kitten you've chosen will be given all age-appropriate vaccinations before they go home. They will also be given a clean bill of health from a licensed veterinarian before he or she goes home with you. They are guaranteed to be disease-free upon receipt and come with a one year genetic health guarantee. Your kitten will be happy, healthy, and ready to go home with you once they have reached at least 10 weeks of age. Your kitten will be socialized with other cats, dogs, loud noises, strangers, and travel. They will also have been acclimated to all aspects of grooming, including nail clipping, bathing and blow drying.
Your new kitten will not be spayed or neutered before it leave us; however, you will receive a $100 rebate for proof of spay or neuter before your kitten reaches 6 months. Many breeders do not offer registration with their kittens, but we always register our kittens in their new parent's name. His or her registration will specifically state that he or she is not for breeding, but will always offer showing rights without extra expense. Registration is done in The International Cat Association (TICA). All kittens are microchipped in their new parent's name before they go home.
Please review our contract before you make a decision on purchasing a cat from Tiny Lions Napoleons. You can see a copy of it here.
Show and breeder cats
Tiny Lions Napoleons strives to produce the best cats of the breed and therefor will sell only kittens that exhibit the best traits as show or breeder cats. These will be determined by color and the beginning of the kitten's development of the right conformation standards. However, since a cat continues to develop its traits well past 13 weeks, even until it reaches adult age, it is impossible to predict the exact conformation standards of any kitten by the time it is ready to go home with its new parent. It will be up to the prospective buyer to be familiar with the conformation standards of the Minuet breed to be the judge of what they are looking for in a show cat. Note: No breeder can guarantee show results in their cats, and you should be very wary of anyone who does.
Due to their status as breeders and show cats, these kittens will be priced higher than cats that will go to pet homes. Be sure to indicate if you are interested in a show or breeder cat. However, we will not sell our cats as breeders to just anyone. Anyone interested in a cat for breeding must prove that they are or will be a responsible breeder, according to the rules of TICA.org. (See rules here). Those people will also be vigorously vetted to make sure they will provide a loving home to their cats. Breeding rights are an additional $500. There is no additional cost for showing rights.
If you are interested in breeding Minuets, you will be required first to read an article I wrote on the subject. It details all the pain and expense that goes into breeding these wonderful but tricky cats. You can find the article here.
Show Kittens: If you intend to show a kitten in TICA or other cat association, you must indicate this to us. We only sell our kittens for breeding to programs that we approve, so if you are interested in showing in Adult Championship, you must also be accepted as a "breeder." Otherwise, a kitten sold as a show kitten must be spayed or neutered before 6 months, according to our contract. These cats will be allowed to show in the Alter Class. Our selling contract will specifically state what rights are being sold with the kitten. Cats that will show in Alter Class will not carry the additional show fee and can be purchased at the pet price; however, they will be altered before they go home.
International Buyers
We are reluctant about selling kittens internationally, since many brokers are trying to acquire Minuets for pet stores and it is hard to vet out-of-country buyers. We make sure our kittens go to their forever home and we will never sell to brokers. However, if you are not a broker, but willing to offer a loving home for one of our kittens and are from outside the United States, you should be aware that there are additional costs above the purchase price of the kitten. This cost can run upward of another $2,000, depending on the country you wish the kitten to go to. However, you will only be charged what expenses are incurred to get your kitten home, including travel costs (as we live two hours from Denver). You will also be required to communicate with us extensively to ensure the quality of home our kitten will be going to. Remember, our priority is ensuring the health and happiness of our cats. Under no circumstances will we sell to brokers. If you are a broker, do not even inquire about our kittens.
You should know what additional costs you will come across if you are an international buyer:
An International Health Certificate (obtained by breeder)

A USDA stamp for travel (obtained by breeder)

Microchipping (provided by breeder)

Time and travel cost to acquire all of the above. (Reimbursed to breeder)

Airfare or cost to pick up the kitten. (Obtained by buyer)
You should become familiar with the import laws for bringing pets into your country. Prior to agreeing to sell a kitten to an international buyer, we will review the laws of that country to ensure that they are compliant with ensuring the health of the kitten during transport. We reserve the right to deny purchase of a kitten due to those laws, or any other situation where the health of the cat is not guaranteed.
Note: We will not ship a kitten in cargo. You must arrange for personal transportation home, either by picking up the cat in person or having a personal representative do it for you.
Funds for the cost of a kitten and shipping home must clear before the the kitten leaves our possession.
Disclaimer required by TICA for the use of their logo: This cattery has NOT been inspected by and is not endorsed by The International Cat Association, Inc.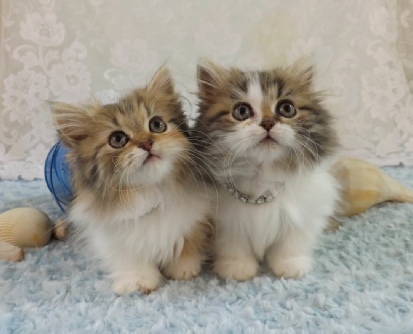 DNA Testing, Genetic and Color Coat
Our parent cats have been tested for a variety of genetic diseases that could be passed down to their offspring. We used to test for only three genetic diseases through UC Davis. However, a new DNA test came out through Wisdom Health, Optimal Selection, which has a 40+ genetic feline disease test, and all our parent cats have been tested through this method. You may contact us to see any of our parent cats' results, which have shown "clear" of the diseases.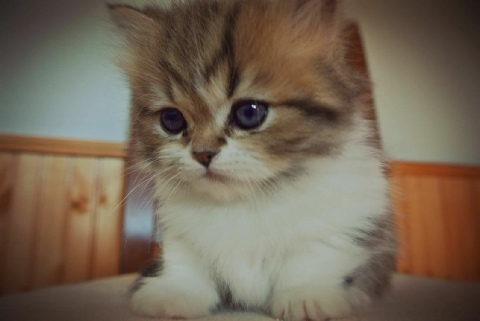 If you have trouble with the questionnaire, please do not hesitate to email us with your answers in the body of the email. Or call us to discuss your answers in person.