Breeder of third generation Minuet cats, the pride of cat lovers, and the kings and queens of the cat world.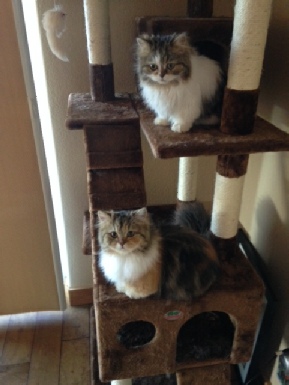 In this section, you will find information and advice about cats in general, Minuets, and breeders. It is important that anyone interested in owning a cat becomes familiar with their needs and how to live happily with them.
Although I am not an expert on cat behavior, I can impart some wisdom from my own experiences with cats and what I've learned from research and mentorship from other cat experts. You'll find great hacks to make your time with your cat easier, and discover some amazing things about cats that you never knew. We'll also dispel a few stereotypes about cats and introduce you to some new ones.
Check out the pictures of our girls, Lady Bing (Bing, above) and Queen Josephine (Josie, below). You'll see how kitten-like they look even after reaching adulthood. That is the wonderful thing about Minuets. You'll enjoy that same youthful look and personality throughout their life if you decide on getting a Minuet.
On September 13, 2017, we were contacted by Elis Hattemer after locating our website. Elis was kind enough to provide us a wonderful article on the cost of pet ownership, titled Pet Ownership Costs Guide for 2017. This is a comprehensive article on what you can expect to spend on a pet with currents costs projected from 2017 standards. This calculation is done for both dogs and cats (dogs appear first in the article) and it reflects a realistic assortment of expenses you can expect in pet ownership. Every new pet owner (and old one) should give this a read to understand the needs of a pet and the costs related to maintaining the good health and mental welfare of their beloved member of the family. You can find this article here.
Enjoy the following pages as we take you on a tour of cat behavior, life with cats, and the joy they bring. The Kitty Blog will have articles on cats in general, while Cats Happen will have stories of life living with these wonderful animals.
If you have any questions about cats or Minuets, you can always contact us for advice. If we don't feel confident in our ability to provide the information you need, we will direct you to a source who can. In the meantime, don't hesitate to ask your questions. It's just a simple email.
Email us at cmrudy337@gmail.com