Breeder of third generation Minuet cats, the pride of cat lovers, and the kings and queens of the cat world.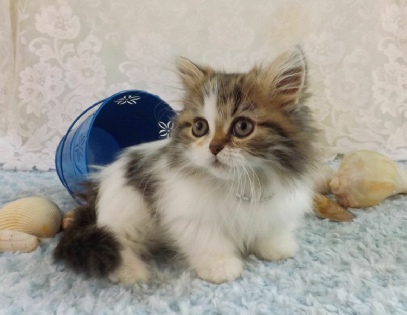 Tiny Lions Napoleons is committed to promoting the Minuet breed among cat associations. In May of 2016, Minuets were accepted into Championship status in The International Cat Association (TICA). Although our cats are registered with TICA and Cat Fanciers Federation (CFF), we are more active in TICA because of our geographic location. CFF is mainly in the Northeastern region of the United States, while we are located in the Rocky Mountains of Colorado. Therefore, we attend TICA shows.
In order to continue advancing Minuets among cat associations, it is important to enter these beautiful cats in association-sponsored shows. We intend to do that with our cats in every show we can conceivably go to. Our primary intention is not to compete for points, but to show that Minuets are amazing cats deserving of recognition, regardless of their version.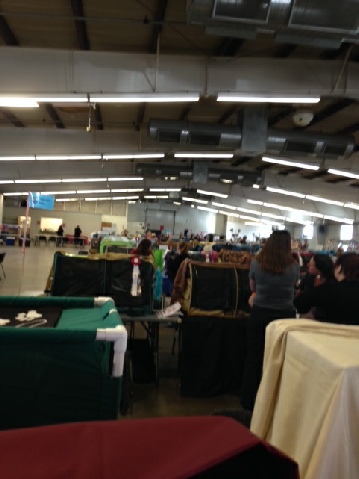 We started showing locally in 2015, at Denver's Romo Cat Club, with Bing and Josie entered in the Advanced New Breed (ANB) Division. At that time, Minuets were in the ANB Division, which is an experimental time to see if Minuets could hold their own in showing. It was important for Minuets to show in this experimental phase so they could be advanced to Championship status. In May 2016, that happened. Standard (short leg) Minuets can now show in championship! But there's more work to be done with Minuets in showing. The next step is to get TICA to accept the regular leg version to show in championship.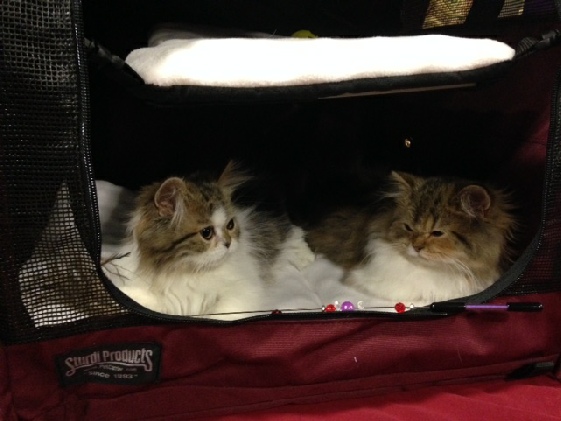 Tiny Lions Napoleons will be at the following shows in 2018:
Showing is a costly and time-intensive adventure. We enjoy doing so but we must be realistic in how much showing we do. In addition to that, we have to be careful that our cat's breeding program is first and foremost over showing.
We are looking into what shows we can go to. The following are shows that we are considering, although they are not exclusive:
February 2-3, 2019: Brighton, CO
Econo Cat Club
March 23-24, 2019: Colorado Springs, CO
Garden of the Cats
April 13-14, 2019: Mesquite, TX
Feline PAW Foundation
Garden of the Cats
We recently started a cat club that is also a nonprofit organization to promote animal welfare in Southern Colorado. Garden of the Cats will host its first show March 23-24, 2019, at Mitchell High School, in Colorado Springs (1205 Potter Drive, Colorado Springs, CO 80909). Please check out more information on the event at www.gardenofthecats.com.
To view TICA's show calendar, click here.
Sunflower State Showdown, Wichita, KS, September 10th to 11th, 2016
Claude and I went to the Sunflower State Showdown in Wichita, KS on September 10-11, 2016, which was Claude's first show. He adapted well to the strange environment and showed some of his tricks while playing with the judge. He took first in breed three times in judging during the two days.
He also proved that he's a good little traveler, provided that he doesn't have to spend all that time in his carrier. He loves riding in the car and exploring the hotel room, but he missed his dad. We also returned Riddler to his mom, who was attending the show. Claude was sad to see him go and so was I.
Claude's next show will be in Oklahoma City, OK, on October 15-16, 2016. We're hoping Claude will captivate the judges there, too.
Red River Rascals Kitty Roundup at the OK Corral, Oklahoma City, OK, October 15 - 16, 2016
The whole gang went to Oklahoma City to attend the Red River Rascals, Kitty Cat Roundup at the OK Corral on October 15-16, 2016. That meant four dogs, two adult cats, and two five-week old kittens, along with Claude, who was the only one who was entered in the show. There were forty-seven kittens and Claude finaled three times: fourth, eighth, and ninth over the two days. Much better than his first show. I was thrilled.
It was the kittens' first road trip and they did extremely well. Kubi and and Gidget had to stay in a travel playpen at the hotel–flipped over, since Kubi proved to be a quick study at escaping. He climbed up the side in an instant and tried to tumble over the top.
Claude's next show is not so far away, in Denver, which is only two hours away, a blessing.
Rocky Mountain Cat Club Spooktacular at Denver, CO, October 28th to 30th, 2016
My husband went to Denver with me, Claude, and Bing to attend the Rocky Mountain Cat Club Spooktacular on the weekend of October 28-30, 2016. There were forty-four kittens in total and Claude went to finals twice, despite a poor attitude. Even with Bing in his corner, he was grumpy for some reason. Still, I was happy with two finals, even though he probably would have gotten more with a better attitude.
We got some positive feedback from a few judges after the fact and that was encouraging. Claude's next show is far away, in Corpus Christi, TX, on Thanksgiving Day weekend. My son, Kyle, will be going with me. Claude only has two more shows before he becomes old enough to compete in adult championship, which starts when a cat is eight months old.
Catmas on the Beach in Corpus Christi, TX, November 25th to 27th, 2016
My son, Kyle, accompanied me with Claude, Bing, and Josie to Corpus Christi, TX for the Catmas on the Beach show. Claude had his best show ever, finaling five times. I was so proud of him.
Coatamondi Cat Club in Tucson, AZ, December 2nd to 4th, 2016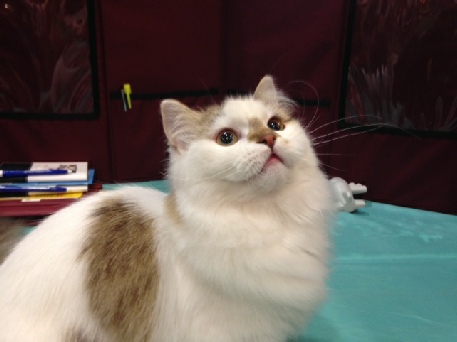 My husband and our four dogs went with me and the cats to Tucson for a Ragdoll congress cat show. Coming off his best show in Corpus Christi, we were truly disappointed with his results. He had to go up against 51 ragdolls, along with all the other breed kittens (101 entries), and he did not final. I shouldn't make excuses for him, but we were benched next to a female cat that proved to be in heat. That got Claude's hormones raging and he was a little rambunctious, which didn't make the judges happy. The good new is that he appears to be all male.
Claude's failure to final in Tucson meant the end of his showing as a kitten. His next show appearance will be as an adult, and no doubt, much tougher competition.
Chili Cats in Racine, WI, January 14th, 2017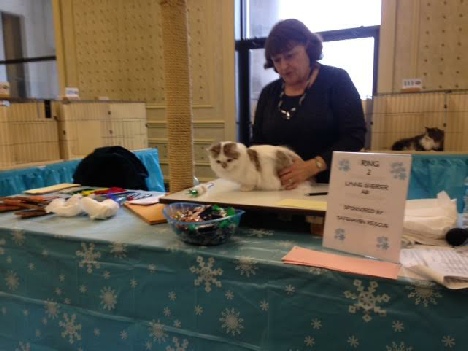 Claude's first show in adult championship was also his first show in 2017. We made a trip out of our region, to the Great Lakes region, so we could return Riddle Me This (Riddler) to his owner, Samantha McConnell, of Pawcity Cattery. A friend who raises Norwegian forest cats, Brenda Mosal, went with us and we had a blast.
My goal with Claude was to get him used to being in the show hall and around other cats, to make him more comfortable. He showed more ease with the judges and amid all the hoopla. Our next show is in Deer Park, TX, January 28-29, 2017. This is back in our region, the south central region. If you're in the area, please stop by and visit us.
Feline PAW Foundation in Deer Park, TX, January 28th to 29th 2017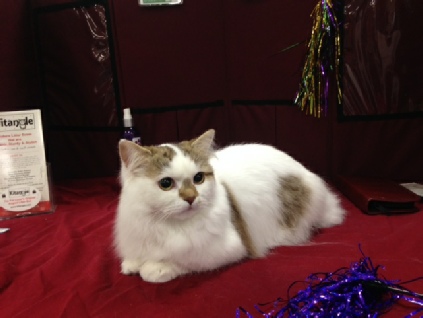 Claude and I went to Deer Park, TX (Houston area) for his second adult show, on January 28, 2017. He did relatively well on his own, finaling four times, which got him his champion status! The show was fantastic, one of the best ever, and Claude was stellar with the public. He is developing a fan club all on his own.
Claude's tolerance with other cats is slowly getting better. We either walked around among them, or he stayed on the benching table, where people could get to know him better. Our next show is in Brighton, CO (Denver), on the weekend of February 4-5, 2017. This is basically in our backyard and we would love to see you if you're in the area.
We would love to see you at these cat shows. If you are in the area of any of the shows listed, don't hesitate to stop by and mention that you'd like to see our cats in person. Keep an eye out for the shows that we are definitely going to.
Claude had his third adult championship show in Brighton, CO. It was great because we didn't have to travel far, just two hours away. Our friend, Brenda Mosal, was there as well, with her Norwegian Forest Cat, Nyx. We had a great time, despite some car trouble. Claude behaved very well, getting better with his growling habit. Some trouble with the microphones and speakers gave a lot of cats anxiety, including Claude, but that's just part of the process.
The accompanying picture is Claude the day after the show, just chilling out.
Our next show is on February 11-12, 2017, in Waco, TX. We'd love to see you all if you're in the area. I'm bringing Josie along for company.
Econo Cat Club, Love in the Rockies, in Brighton, CO, February 4th to 5th, 2017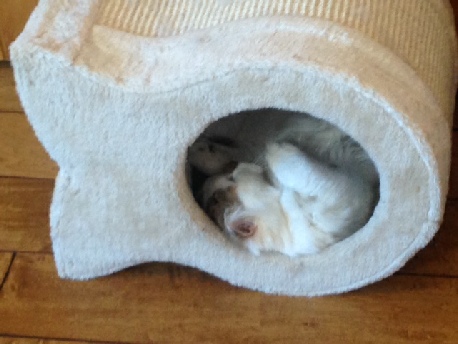 Thunderkatz, Happy St. Catrick's Day, in Oklahoma City, OK, March 17 to 19th, 2017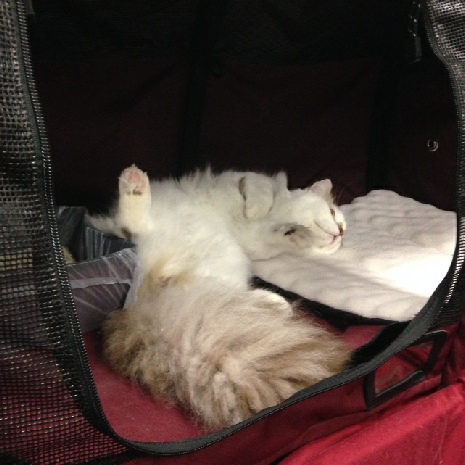 Claude and I went to Oklahoma City for his fourth adult championship show. It was a three-day show and it was hectic on the first day. We got into town only an hour ahead of judging and had to switch hotels at the last minute, before we headed for the show hall. Claude took everything in stride and finaled three times during the weekend. I'm happy to say that he made enough points that weekend to reach grand champion status. We had a fantastic weekend together.
Our next show is a one-day show in Denver, on March 25, 2017. Again, if you're in the area, stop by and say hello. We'd love to see you.
Romo Cat Club, Mile High Madness, in Denver, CO, March 25, 2017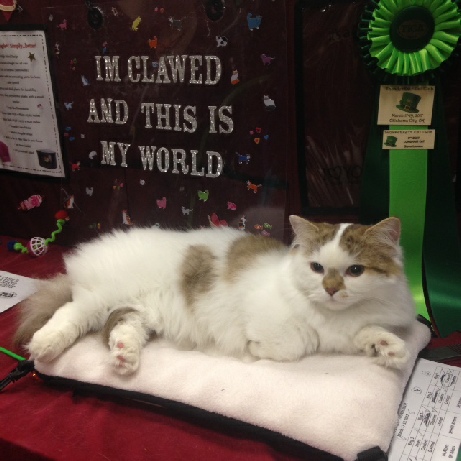 Denver was another local show for Claude and me, a one-day show in Denver, which made it easy for us. We picked up Reagan, a beautiful Norwegian Forest Cat that was showing in Alter class. Reagan's mom, Brenda Mosal, met up with us midmorning to show Reagan and to keep us company.
I didn't expect good results with Claude at this show, since the judges that day had never finaled him before, but we were surprised to final twice that day. With those finals, he should have gained enough points to make Grand Champion. Go Claude!
We have a break for a while, as the show season is coming to an end for the year, but our next show before that is Nashville, TN. It will be a hard show to final in, as that region is tough on Minuets, but we're going for the fun. Brenda will be bringing Reagan and traveling with us.
!!! Breaking News !!!
Clawed Lemieux of Tiny Lions (Claude) received his triple grand champion status on April 22, 2017. We are so proud of him. His next title to shoot for is quad grand champion. Go Claude!!!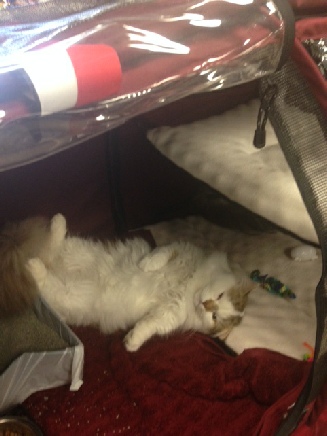 Claude, Josie, and I went to Nashville with a friend and her Norwegian Forest Cat for this wonderful show out of our region. It took us two days to drive there but we had a great time, and seeing the country is always a pleasure. I brought Josie, hoping she would go into heat for Claude, but no such luck. Still, we had an outstanding time.
Claude finaled twice during this weekend, an eighth place and a second. A second! His highest place ever, and out of 51 cats. What an accomplishment. I was so proud of him.
The picture to the left is one I took of Claude after several judgings and two jars of turkey baby food. He's hopped up on tryptophan.
Our friend, Brenda, really cleaned up with finals. She was showing a beautiful Norwegian Forest Cat in Alter Class (not competing against Claude) and placed first four times. Congratulations Reagan. Regean supremed over the weekend, the highest title to achieve in showing. So proud of you, Brenda and Reagan. Thanks for sharing the weekend with us.
Claude's next show is in Albuquerque, NM on May 13-14, 2017. Join us if you're in the area.
Music City Cat Club, 50's Sock Hop Bash, in Nashville, TN, April 28-30, 2017
!!! Breaking News !!!
Clawed Lemieux of Tiny Lions (Claude) received his quadruple grand champion status on May 1, 2017. We are so proud of him. His next title to shoot for is Supreme Grand Champion. Go Claude!!!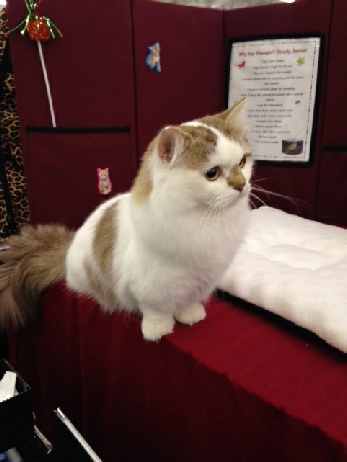 Enchanted Cat Club, A Feline Fiesta, in Albuquerque, NM, May 13-14 2017
In a rare occasion, my husband accompanied Claude and me to the Albuquerque show. The dogs and other cats, including little Jasper, came as well. We had an amazing time together and Claude was able to interact with Jasper for the first time. The two became fast friends and ran around the hotel room as they romped and played. There was a downside to that, though, since Claude had to leave his newfound friend behind to go to the show. He didn't like that one bit. However, Claude did manage to final an amazing six times: three times in third place in special breed, twice in second place in special breed, and taking a fourth place in all breed. I was so proud of him, but also frustrated, because he was like a teenager who wanted to get his way.
Thanks, Scott, for coming along. We loved having you and wished you would come more often.
Fort Worth Feline Fanciers, Texas in Bloom, in Dallas, TX, May 20-21, 2017
Claude and I were back alone on the road when we went to Dallas, TX for a Pet Expo show. Still, as always, we had a great time and met new friends. Claude did well, finaling three times on this two-day show. He took fifth and second in special breed, and sixth in all breed. Good job, Claude!
!!! Breaking News !!!
Clawed Lemieux of Tiny Lions (Claude) received annual regional awards for the best longhair Minuet (chocolate mackerel tabby and white) of the South Central Region, 2017, and best Minuet kitten and best Minuet cat of 2017, South Central Region. You go, Claude!!!
Summer Holidays, Econo Cat Club, in Aurora, CO, June 17 - 18, 2017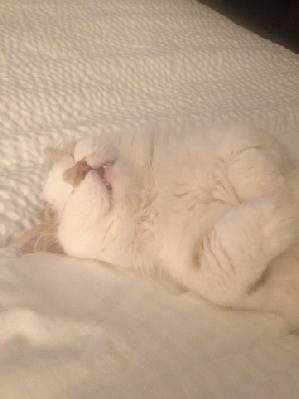 Claude and I went to the Aurora, CO Summer Holidays cat show on June 17 - 18, 2017, but we were joined intermittently by several friends. Lynn Brown from Montana brought her two Minuet girls, who were also entered into the show. My husband came by on Saturday to spend time with us, and Brenda brought her beautiful Norwegian Forest Cat, which competed in the Alter class. During this show, Nyx, Brenda's cat, supremed. Way to go, Nyx.
Claude finaled multiple times. He finaled fifth once, fourth once, and third three times in special breed, and tenth twice in all breed. We were very happy with the outcome. In the meantime, we tried our hand at vending. Because there's a lot of downtime during a show, I've been thinking of what I can do to keep busy. I came up with the idea of vending some homemade products, and we tried it for the first time in Aurora. Although there wasn't a lot of public traffic (given that it was Father's Day weekend), we still did a modicum of business. More importantly, I was kept busy. We're going to try it again at the Cheyenne show.
Claude is always exhausted after a show, as you can see from the picture.
Wild West Herding Cats Show, Prairie Winds Cat Club, in Cheyenne, WY, July 8 - 9, 2017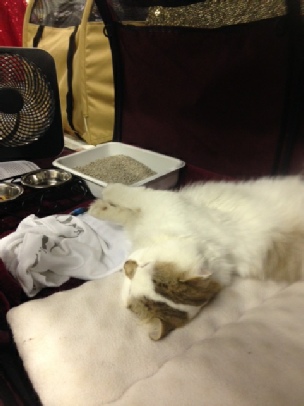 The whole family took the opportunity to go to Cheyenne, WY for the first show ever of the newly minted cat club, Prairie Winds. Hubby came along, which means all the dogs and cats–including Bing's two little kittens, joined us. It's part of our socializing training with the kittens to get them travel happy, and this was the perfect opportunity to do so. Both Buster and Brinn enjoyed the new experience and got a chance to meet all the dogs.
As for the show, Claude didn't do well. There was no air conditioning in the building and he had a horrible time dealing with the heat. In the picture to the right, he's laying on an ice pack wrapped in a towel and spreading his legs for air from a fan. He was cranky when he was taken away from his only relief and not appeasing to the judges. He also had his routine mixed up a bit, because I was conscripted to clerking, while my husband ran him to the rings. Still, he finaled third with one judge, which is more than I expected.
Aside from the heat, Prairie Winds did a spectacular job putting on a friendly, well-run show. They promise that the building will be air conditioned next year, so we look forward to going again.
Headed for the Beach, Fort Worth Feline Fanciers, in Cleburne, TX, August 5-6, 2017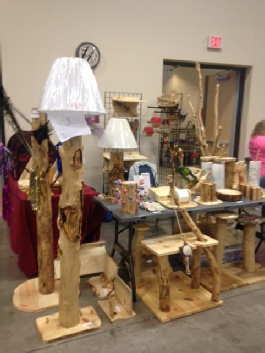 One thing we learned in showing one cat is that there is a lot of downtime. So, to combat boredom, we decided to make a few things out of wood from our property and homemade cat toys and see how they sell. We received great praise for our crafts and have been invited to several other shows, so we feel like we've found a niche to fill. This gives us something to do while showing Claude.
Claude finaled twice in the Cleburne show, taking 10th out of 42 cats and 4th out of 15 long hair cats. He probably could have done better without the attitude, but he still grumbles when the judges take him out of the judging cages. I don't understand it, because he's a doll with spectators at the show and a sweetheart everywhere else. It's just in the judging ring that he changes his tune, and this is why I'm looking for another cat to show. Once I have one, I'll retire Claude from showing. It's a shame, because he hasn't supremed yet–and probably won't because of his attitude–but he's not having fun with the judges. However, he really does love traveling. He has a blast at the hotels and in the car.
Inaugural Show, High Country Cat Club, in Denver, CO, August 19th - 20th, 2017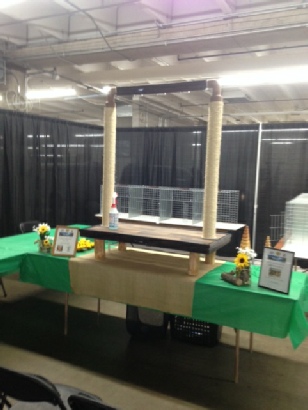 High Country Cat Club is a new cat club based in Denver, CO, which we at Tiny Lions are founding members of. Our inaugural show was on August 19-20, 2017, and I made the cat judging tables for our club. They received a lot of good remarks and I am very proud of them, and I hope they get a lot of use in the future. The picture to the right shows one of them, with enough space to hold a Maine Coon and cat scratching posts for cats to play on.
Claude didn't do very well at this show, mostly because I was clerking on both days and running him to rings when I could. I didn't have a lot of time to play with him, so I blame myself for his lack of high finals. I didn't mind much because it was about making a good first impression with the public for our first show and I believe we did. This show was in conjunction with the Denver Pet Expo, where there were tons and tons of dogs walking around among the cats, which probably had an effect on Claude's performance as well. I certainly wish I had the time to go through the vendors to see what was there, but alas, I barely had time to breathe.
Claude did final four times, all in special breed. He took fifth once, fourth twice, and third once. With his showing days coming to a close soon, I hope he will get a first at least once to end as a supreme.
Chisholm Trail Fall Roundup, Austin Cat Fanciers, in Temple, TX, Sept. 30th - Oct. 1st, 2017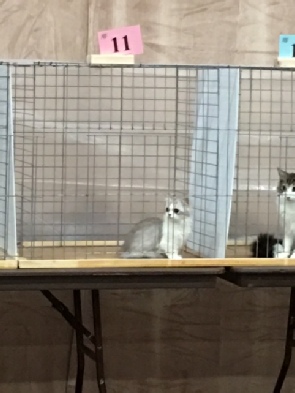 Ellie is my new show cat. Her first show was in Temple, TX, on September 30, 2017. I was so excited to bring her, along with Claude, and show her off to the public. While Claude is usually a grump when it comes to showing, Ellie is a little doll. She was nervous at first but then she became curious about everything going on. She even hammed it up with the judges. She was the little darling of the show, drawing attention from spectators and other exhibitors throughout the weekend.
Ellie didn't final during this show, which is not unusual. Cats, even kittens, are judged according to their conformation to the breed standards. At four months old, a kitten has not developed into their breed standard. Ellie was up against some older kittens, which looked more like their cat counterparts, and those were more likely to final. Still, Ellie was gorgeous and is likely to take many finals as she grows.
Claude, even being a grump with the judges, finaled once, fifth in special breed. He is an amazingly beautiful cat that should final more if it wasn't for his poor attitude on the table. Several judges have said that they would have finaled him if he hadn't been grumbling. He loves traveling but he is not a fan of being judged (who is?). I think his last show will be the Denver show in October (2017) since he is not enjoying the circuit. By then, Katy will be able to show and can keep Ellie company.
Ellie and Claude's next show will be in Oklahoma City, on October 14 - 15, 2017.
Spooktacular, Romo Cat Club, in Denver, CO, October 20-22, 2017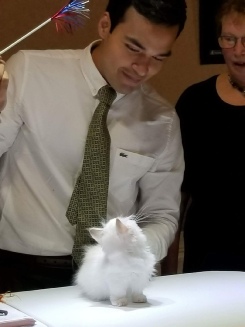 A lot of things happened this weekend, and not all of them were good. What was great was that we had plenty of Minuets show up at the Denver show. Lynn Rigney Brown, of 406Paws Cattery, brought three of her Minuets and agented another one. I brought three myself: Claude, Ellie, and Katy–her first show–for a total of seven Minuets in the show. Unfortunately, Claude proved to be unhappy to be there and I pulled him after only a few rings on the first day. He had finaled once, seventh out of forty-two cats, but it was obvious that his anxiety in showing was affecting him. I came to the decision that I would not show him anymore. Very sad, but probably best for him overall.
Ellie and Katy went up against some serious competition with Lynn's kittens. They were much larger and more developed in age than Ellie and Katy. Lynn took a few finals, which was awesome, since it made an impression for Minuets. I was thrilled for Lynn and I'd love to show with her again, especially when my kittens grow up.
!!! Breaking News !!!
Clawed Lemieux (Claude) will be retiring from showing. He is too interested in breeding with his girls than showing off his handsomeness. I will be showing Ellie (Gabrielle Landesclaw) and Katy (Catrice Purrgeron) for now.
Christmas in the Desert, Coatimondi Cat Club, in Tucson, AZ, December 1 - 3, 2017
This was my first show without Claude and it was rather bittersweet going without him. But I had Ellie and Katy with me, and we had a great time traveling. However, something in the hotel got Katy sick, causing her eyes to water and for her to sneeze atrociously, so we left early, not showing on Sunday. She miraculously got better after a few hours on the road, proving that something had been in the room that bothered her. She did final once on Saturday, taking eighth out of forty-four cats, and it was her first final ever. Ellie wasn't so lucky this weekend.
Some of the events of this weekend made me realize that I have to choose my shows more carefully. For the time being, we will be limiting our shows to those in the state of Colorado.
Valentine Show, Econo Cat Club, in Brighton, CO, February 3 - 4, 2018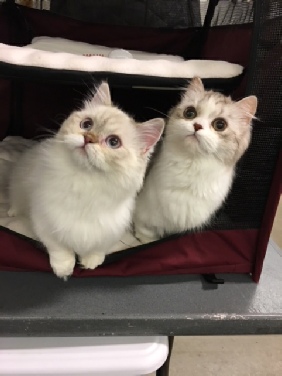 Katy, Ellie, and I went to Brighton, CO (Denver) on the weekend of February 3 - 4, 2018. Only Katy was entered in the show because Ellie had had surgery the week before to remove a foreign object from her stomach. But she was in great spirits and health to attend the show to keep Katy company, despite having been cut the whole length of her underside. I didn't think Katy had much of a chance of finaling, since her tummy was a little swollen, but she surprised me. She finaled five out of six times the first day: twice in fifth place, once in fourth place, once in second place, and a best kitten!! First place. On the second day, competing against many more kittens, she finaled three out of six times, once in tenth place, once in eighth place, and once in fifth place. I was amazed and delighted.
Check out her adventures on her Facebook page, at https://www.facebook.com/groups/142238163163429/
I had hoped to go to more shows, but they are proving few and far between until the end of April. Our next show will be in Denver, CO, on April 28 - 29, 2018, where I hope to show both Katy and Ellie.
Feline Fiesta, Enchanted Cat Club, in Albuquerque, NM, May 12-13, 2018
I took Ellie and Katy to the Feline Fiesta cat show in Albuquerque this weekend, where they competed against each other in adult cat championship for the first time ever. Katy did great, finaling eight times, while Ellie finaled five times, more than I thought she would, seeing as though she still needs to beef herself up. Although she doesn't have the bulk that Katy does, she has a fabulous face and structure. Katy got two seventh and a sixth best cat in all breed, and a third, three seconds, and a best cat in special breed! Ellie got three fifth, one fourth, and one third best in special breed. This means that Ellie would have made champion and Katy would be a grand champion–in the least.
Katy was a little grumpy on the first day, but she was fantastic on the second day. Ellie was always in a ring with a boy that tried to woo her, but she was having none of it. She definitely wants only Claude.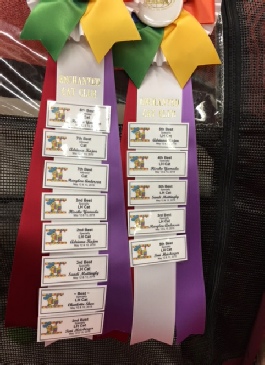 5 Tribes Cats, MuskogeeCats Cat Club, in Shawnee, OK, May 26-27, 2018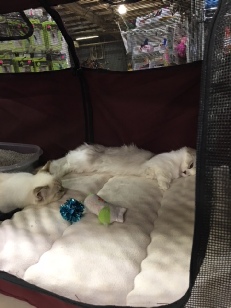 Ellie and Katy joined me in Shawnee, OK, for a show put on by the Muskogee Cat Club. There were more cats competing against them, so it was tougher competition (around 50 cats). Katy got four finals: tenth, sixth, fourth, and third, while Ellie didn't final this time. She was given best of breed a few times, but those judges didn't final her. There were more longhairs in this competition, but the judges were overall in favor of the shorthair cats. Boo! It's tough to show longhairs, but so go the breaks. Can't do much to change opinion.
I was very happy with Katy's results. She is truly an amazing girl, although Ellie has–in my opinion–a better Minuet face. The judges like heftier cats, and Katy is more bulky than Ellie, ergo why she doesn't final over Katy. But we work with what we have.
Still, we had a great time. The girls love the different hotels and spend a lot of time running around the room, chasing each other. They also like to wake me up in the middle of the night for some play time. As long as they love traveling, we'll keep going to shows.
Cat Roundup, Wild West Cat Fanciers, in Salt Lake City, UT, June 2-3, 2018
Katy and Ellie joined me at the cat show in Salt Lake City, put on by the Wild West Cat Fanciers. I couldn't go last year, even though I'd entered the show because Bing was due that weekend. However, I got to go this year with my girls and it was a great weekend. Not because of the show, but because my wonderful husband had set up a surprise for me. He arranged for my son and his family to drive in from Seattle to spend the weekend with me. What a wonderful surprise!! And my son brought Ceviche, one of our kittens, to see how he'd grown.
The last time I saw Ceviche in person was when I sent him home with Ryan at 12 weeks old. Now, Ceviche is a year old and looks amazing. Half his face looks exactly like Bing, his mom, and the other half looks like his dad, Claude.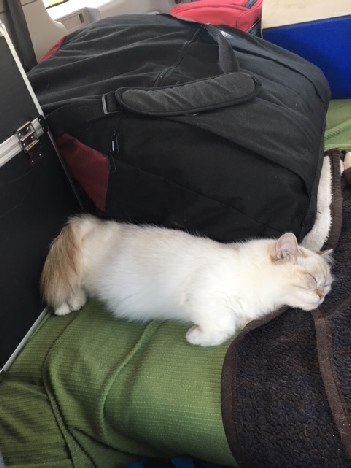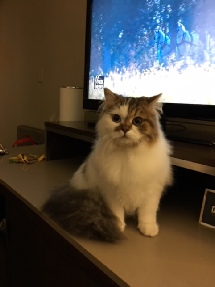 Oh, how did my girls do, you ask? Katy finaled only two times, tenth and sixth. She wasn't in her best mood, so I'm sure that had a lot to do with it. I certainly hope she changes her attitude so I can keep showing her.
Ellie, unfortunately, didn't final, which is just wrong. She got a few best of breeds over Katy but she didn't final in those rings. She needs to gain some confidence in the ring and beef up.
(Left picture: Ceviche in the hotel)
Katy on the ride home from Salt Lake City. Just too exhausted.
Cat Show in the Rockies, High Country Cat Club, in Aurora, CO, June 16-17, 2018
We did something different at the Aurora show. I asked to show my son's cat, Nygma. Because Nygma is a regular leg Minuet, he could only show in Household Pet. He did well, but who took the show was Duchess, one of Claude and Bing's kittens. Sadly, she had to show in Household Pet as well, being a regular leg Minuet, but she wiped up the competition with six best cats, one second, and a third. William did an excellent job grooming Duchess, but she is a stunning cat all on her own. The judge even knew she was a Minuet and gave the best compliment ever. She was saddened that Duchess had been spayed because she was an excellent example of a Minuet that could have passed on perfect genes.
On our part, Katy was having a bad weekend with her heat cycle coming upon her and making her cranky, so she didn't final. However, Ellie did. She finaled five times. I'm so proud of her. She's going to give Katy a run for her money.
At the right is Duchess getting her first best cat, with William, her = dad. He was so proud of her.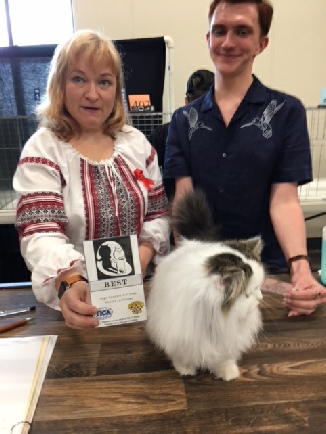 Congratulations to Claude and Katy for their awards from last show season (2017). Claude received two regional awards from the South Central Region. He was the best Minuet Cat and the 14 best long hair cat. Katy was the best minuet kitten of the South Central Region for the season
Yellow Rose Cat Club, in Denver, CO, July 14-15, 2018
Duchess and William joined us for one day at the Yellow Rose Cat Club show in Denver on July 14 to 15, 2018. I only showed Ellie, as Katy was recovering from anemia, but we had a wonderful time with friends. Ellie finaled three times: tenth once and eighth place twice. I was happy for the finals, as each one helps Ellie climb in ranks to our ultimate goal of becoming the number one Minuet internationally. Katy had a shot at it, since she currently holds the first place, but Katy will be altered as soon as her doctor gives the green light. I'll show her as an alter then and shoot for her to become the number one alter Minuet internationally, while Ellie takes over the goal for number one in adult championship.
South Central Regional, Econo Cat Club, in Denver, CO, August 11-12, 2018
I showed my son's cat, Nygma, in this show, as a household pet since he's a nonstandard pedigree Minuet. I also showed Ellie, although I didn't have much hope that she would final. She was pregnant, which made her a little off for the show.
As expected, Ellie didn't final at all, but Nygma did very well. He finaled 10 our of 12 times, getting a first once. He truly is a beautiful cat and should be allowed to show in championship, if the rules would be changed. As for Ellie, this will be her last show for a while, until her kittens go to their new families–if all goes well. I guess her taking over first place internationally is not in the cards.
!!! Breaking News !!!
Clawed Lemieux (Claude) received two awards from the South Central Region for last season (2017): Best Minuet Cat of the South Central Region and the fourtheen best long hared cat in the region. Katy received an award as well, the best Minuet kitten in the South Central Region. Congrats, Claude and Katy!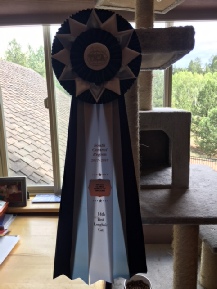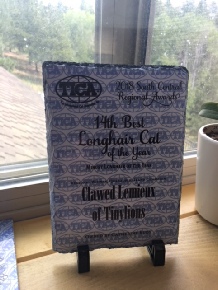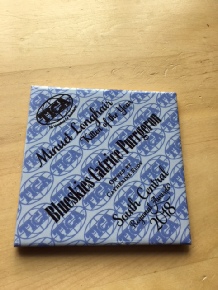 Sunflower Show, KansasKatz Cat Club, in Wichita, KS, September 15-16, 2018
A friend and neighbor, Mary, joined me, Katy, and Nygma in our travels to Wichita, KS for a cat show being put on by KansasKatz. We were vending as well, with Mary's help, and there was going to be several Minuets in attendance. Samantha McConnell and her mother, from Pawcity Cattery, were there with five Minuets, of which two were competing against Katy. Another Minuet was competing against them.
Katy did not do well with the competition and I will not explain why. Suffice it to say, politics played a part in it, and it was a frustrating weekend. However, Mary and I had a great time with Sam and her mom, and Janet Hayes showed up as well. We discussed our intentions of trying to get nonstandard Minuets into championship, even though there are others who are working against it.
We vended as well and did a modicum of business, but it was all about good times with good people. Mary and I did some networking for our new club, Garden of the Cats, in our preparations for our show in March 2018.
With Katy moving towards becoming an alter and Ellie missing out on critical shows while tending to her beautiful babies, it is unlikely that either will receive an international award. But it is more important to take care of the health of our cats than to chase awards. We'll let other, more competitive people have them. We can't lose sight of our program.
Chisolm Trail Roundup, Austin Cat Fanciers, in Temple, TX, October 6-7, 2018
I had the pleasure of taking Claude out of retirement in order to show a cat in Temple, TX. Since Ellie was with her babies and Katy was still recovering from anemia, that left me only Claude. I must say, he looked spectacular. His hair was like rabbit fur and he was behaving well. However, fate wasn't in his favor–and I have no idea why not–but he only finaled once. A tenth place. Not impressive. I truly believed he was going to knock it out of the park with the way he looked. But shows are fickle and there's no telling how well a cat will do in a show, so those are the breaks. It was just disappointing that he wasn't viewed any better than he was. I do have to say that the show was fun and well done, so no complaints there. As always, we had a great time with far-away friends coming together.
Our friend, Mary, came with us and kept us company. She also helped us vend. Mary is an invaluable asset in all aspects. She is a great friend and a wonderful help.
Claude was the perfect little traveler as well. He enjoyed the drive and settled into the hotels like they were home to him. He can adjust to absolutely anywhere and hasn't lost his knack for traveling.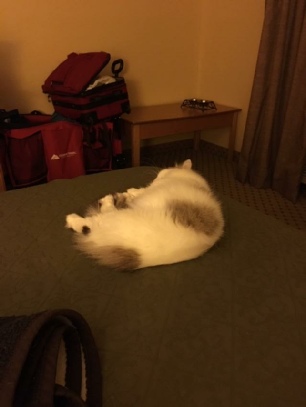 Feline Fall Fest, Thunderkatz, in Stillwater, OK, November 10-11, 2018
I took Katy and Josie to Stillwater, Ok on November 10-11. Katy was showing for the first time as an Alter and she did fantastic! She finaled eight out of twelve times, and she deserved it. She looked amazing and she was on her best behavior. I want to thank the judges who finaled her and the club for putting on a fantastic show. She took 2 third best long hair and a fourth best long hair, and fourth, fifth, sixth, eighth, and tenth best allbreed.
Our drive home was less wonderful, hitting a snowstorm in Pampa, TX, where we stayed over on the way home. What a traumatic drive the next day, which should have only taken five hours. Instead, it took eight hours, crawling across frozen roads. But we made it home safely, even after spinning our twice.
Our next show will be in Waxahachie, TX, on December 10-11, 2018.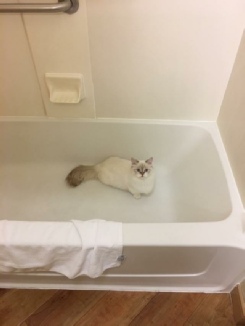 Turkish Van Cat Connection, in Waxahachie, TX, December 8-9, 2018
I took Ellie and Katy to Waxahachie, TX with me on December 8-9, 2018. We were vending as well and did great at that. However, the show results themselves weren't good. Katy only finaled once, placing six in allbreed, but I expected her to do much better. She was gorgeous and frisky, but something just wasn't right with the circustances. Ellie didn't final at all, but I understand that. She wasn't as bulked up as she should be after having her babies and that made finaling pretty impossible. However, there was an ulterior motive for taking her to Texas that weekend. Her babies were going to be leaving and I wanted her to get used to being without them. I knew she was going to be depressed once they left, so I was trying to take her mind off them.
Our next show will be in Denver, February 2-3, 2019, by Econo Cat Club. Not sure who I'll be taking, but I know our new kitten, Sydney Clawsby, will be showing in kitten class for the first time.