Breeder of third generation Minuet cats, the pride of cat lovers, and the kings and queens of the cat world.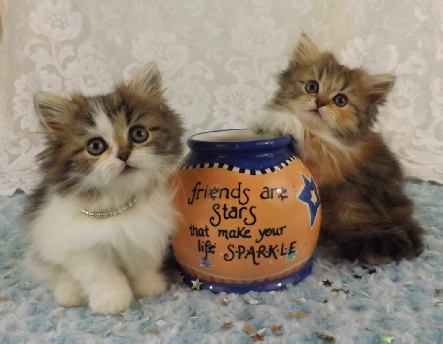 We'd love to hear from you, whether it's to learn more about our cats, about Minuets, or cats in general.
We believe it is important for you to understand exactly what you're getting into if you're interested in bringing a cat into your home. You should trust your breeder wholeheartedly, and the first thing to ensure that is communication.
Aside from that, Tiny Lions Napoleons is here to help you learn about Minuets. We also want to help you with your cat's transition into their new home.
Here at Tiny Lions Napoleons, you can speak to either Catherine or Bryan Rudy. We can be reached at:
Home phone: (719)687-4484
Cell phone: (305)333-3186 (call or text)
Email: cmrudy337@gmail.com
Note: If you are calling and you do not receive an answer, please leave a message. Due to the inordinate number of unsolicited callers from pollsters and obscure charities, we screen our calls from unknown numbers. Leave a time when it's best to call you back. We will return your phone call. We will NOT return calls that are from unknown numbers without a message.