Breeder of third generation Minuet and Minuet Tall cats, the pride of cat lovers, and the kings and queens of the cat world.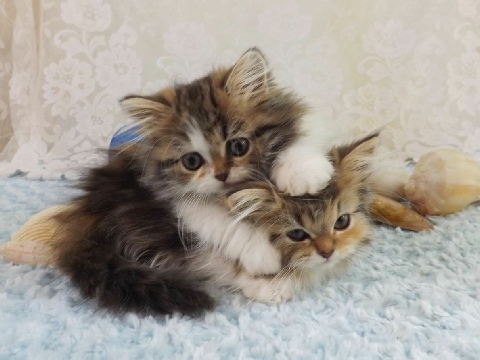 So you're thinking of getting a Minuet kitten. That's fantastic. You are in for a treat. Minuets are wonderful cats that love their human family and bring a tremendous amount of joy to you. Hopefully, you have done your research on the breed and know that you are committed to taking on the responsibility of caring for such a treasure.
If you want to learn more about Minuets, (the word used inclusively of Minuets and Minuet Talls) check out the information I've compiled about the breed here. If you are interested in showing your Minuet, check out our Conformation Standards page.
We hope we can help you find the right cat for either you or your family. If we don't have one at the time you're ready, we can help you look for one from another reputable breeder.
If you need to know anything about Minuets, it is that they are not solely "dwarf" cats. They come in two versions: regular legs (Minuet Talls) and short legs.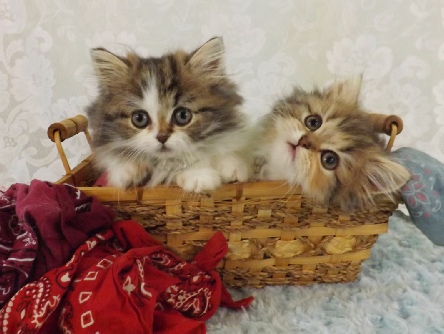 Getting a kitten is a big deal and looking for the right one can be a little daunting. We would like to make it as pleasant an experience as possible. Communications is key in that respect, and we encourage you to contact us with any questions you have about the process.
We are committed to producing the best third generation Napoleons out there, which means that our kittens will have parents and grandparents that are nothing but Minuets. At this time, it is still acceptable to use Munchkins and the Persian breed group to produce Minuets, and this is completely fine with other breeders, but we have been very successful with our small group of Minuet parents. Eventually, though, the standards may faze out the outcross breed groups and our breeding program is modeled to anticipate that eventuality. Since our cats are at least second-generation Minuets, all their kittens will be at least third-generation Minuets.
We breed short to short Minuets so that we can show each of our parents before they start their breeding career. We want to title each of our parents as far as they can go so that we have validation from TICA accredited judges that our cats match the standard, and even excel in their conformation.
To get a kitten from Tiny Lions Napoleons, we do NOT require a deposit to get on a waiting list. However, once you wish to reserve a kitten from a litter, we require a non-refundable deposit ($100 for a Minuet tall and $200 for a short Minuet) to put your name on that kitten.* All people on our Litter Update List will be able to select from our available kittens; and although you may be low on the list, it is possible that you will still get a kitten. We choose the best families for our kittens, not a first-come, first-serve basis. Please be aware that we will NEVER sell our kittens to brokers. If you are a broker, do not even inquire. We vet people on our Litter Update List to ensure that our kittens go to their forever homes directly from us.
The cost of our pet kittens is as follows:
Minuet Talls (long legs): start at $1200. Minuet Talls have the same beautiful doll-like Persian look and sweet temperaments as their short leg counterparts and are very desirable cats. The only difference from a short Minuet is the length of leg. Read more about nonstandard and standard Minuets here.
Minuets (short legs): start at $2500. All our kittens go home with all age-appropriate vaccinations, health exams, microchip, and registration with The International Cat Association (TICA).
The cost of each kitten is dependent on color, lineage, and conformation to standards. Cats that display show quality traits will run a little higher. We prefer to sell only kittens as pets, but on very rare occasions, we have sold quality kittens to a breeder that we agreed with their breeding program. Such a breeding program included their cats being family members. Learn more about getting any kitten from us on our Tiny Lions Kittens page. You'll see everything you get with your kitten.
Show Kittens: If you intend to show a kitten in TICA or any other cat association, you must indicate this to us. All our kittens go home altered, unless requested by the purchaser for either breeding or showing in championship classes. A kitten that is meant for breeding will not be altered and will come with an additional $500 fee and will be considered a "breeding kitten." However, we only sell our kittens for breeding to programs that we approve. Should you wish to only show your kitten/cat and not breed it, you will be able to show in Alter Class. Alter Class show kittens will not be charged the $500 fee, as no breeding rights will be given. Our selling contract will specifically state what rights are being sold with the kitten.
If you wish to get on our Litter Update List, you will have to fill out a questionnaire. Very few breeders require this, but we are concerned about where our kittens go after they leave us. Minuets are very resilient and adaptable cats, and having other pets in the house will not prohibit you from getting a kitten from us. The questionnaire will help us understand your living situation, as well as to give you a chance to reflect on the consequences of bringing a new kitten into your home. We can review your answers and give advice on how to incorporate your new kitten into your family. You can also find helpful suggestions on our Advice page in the above menu.
If you have any questions, please don't hesitate to contact us at:
Home: (719)687-4484
Cell: (305)333-3186 (call or text)
Or email us at: cmrudy337@gmail.com
*If a kitten you have picked and placed a deposit on doesn't thrive to be sent home, you will be given the option of having your deposit refunded or chose another kitten from an available litter. If there is no litter available at this time and you choose to wait for one, you will be given first choice in the next available litter.
Note:
International buyers: We sell many kittens out of state with no problem. Kittens flying out of state only need a Health Certificate, which we supply. However, international sales are much more complicated and we prefer not to sell to international buyers. There are also many scams with international buyers that make us extremely wary of them. But if you are out of the country and truly want a kitten from Tiny Lions Napoleons, please see this page for what we require from international buyers. However, it will be a very rare instance where we will agree to selling a kitten internationally. The information is near the bottom of the page.
Conversely, there are good breeders trying to support the standards of Minuets. Do your research. Contact TICA and CFF for advice and direction. When you find a breeder, speak to them. If they don't answer your questions, be wary of them. Many of the so-called breeders I tried to contact in search of my first Minuets didn't even return my calls or emails. Some turned out to be spammers trying to collect email addresses. Always be on alert for a breeder who doesn't have a web site, or at least a Facebook page. Look for someone who provides a phone number, as well as an email address. If no phone number is provided on a web site, expect a response back by email in a timely fashion.
What to expect when looking for a Minuet kitten
Minuets are a relatively new breed and genuine Minuets haven't flooded the market yet. However, unscrupulous breeders and pet scammers have started to exploit interest in them and have created fake websites or are selling fake Minuets in order to make money. It is important to remember that responsible breeders are interested in developing the standardized traits into new generations of cats to keep the breed pure.
Be prepared to look for a good breeder. Don't look on Craigslist for a Minuet and expect to find a purebred, healthy kitten. Take it from me, who spent several months looking for my first Minuets, there are several phony breeders out there. You can read our experience with fraudulent breeders here.

After several years of breeding these wonderful cats, I have discovered many scammers who are taking advantage of Minuet lovers to defraud them out of money. As a result, I created The Real Minuet Breeders website, www.realminuetbreeders.com, to help people navigate away from scammers and bad breeders. Please review the website to protect yourself from phoney websites and bad breeders. If you need any help to identify if a website or breeder is fake or bad, please contact me. I hate people who exploit the breed or who rip off people who simply love these cats.
Getting a Minuet is not cheap and should never be an impulse buy. The most likely scenario is that you will have to wait for your kitten to reach the age where he can be sent to his new family (usually 12 to 14 weeks). More often than not, you'll have to get on a waiting list. You may even have to put a deposit down to ensure that a kitten is reserved for you, although Tiny Lions Napoleons does not require a deposit to get on our Litter Update List. However, deposits are acceptable practice for some reputable breeders, who want to ensure that you are committed to taking care of a Minuet.
When dealing with a reputable breeder, you should expect to have good communication with them about their cats and their cattery. You should be able to review a kitten's pedigree, or at least its parents' pedigree. The breeder should provide health certificates and immunizations for the kitten before it goes home with you. This is the least you should expect. However, a good breeder will also provide photos of your kitten's development and updates on his progress as you wait for it to mature. This was the most exciting part of the waiting process when I was looking for all my kittens.
How to Get a Kitten from Tiny Lions Napoleons