Breeder of third generation Napoleon cats, the pride of cat lovers, and the kings and queens of the cat world.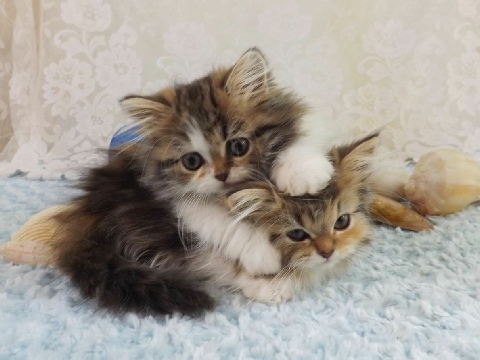 So you're thinking of getting a Napoleon kitten. That's fantastic. You are in for a treat. Napoleons are wonderful cats that love their human family and bring a tremendous amount of joy to you. Hopefully, you have done your research on the breed you want and know that you are committed to taking on the responsibility of caring for such a treasure.
If you want to learn more about Napoleons, check out the information I've compiled about the breed here. If you are interested in showing your Napoleon, check out our Conformation Standards page.
We hope we can help you find the right cat for either you or your family. If we don't have one at the time you're ready, we can help you look for one from another reputable breeder.
Getting a kitten is a big deal and can be a little daunting. We would like to make it as pleasant an experience as possible. Communications is key in that respect, and we encourage you to contact us with any questions you have about the process.
We are committed to producing the best third generation Napoleons out there, which means that our kittens will have parents and grandparents that are nothing but Napoleons. At this time, it is acceptable to use Munchkins and the Persian breed group to produce Napoleons, and this is completely fine. Eventually, the standards will require that only Napoleon to Napoleon pairing will be acceptable. Our breeding program is modeled that way. Since our cats are second-generation Napoleons, all their kittens will be third-generation Napoleons.
To get a kitten from Tiny Lions Napoleons, we do not require a deposit to get on a waiting list. However, once you wish to reserve a kitten from a litter, we require a non-refundable $200 deposit to put your name on that kitten.* All people on the waiting list will be able to select from available kittens; and although you may be low on the list, it is possible that you will still get a kitten. Some people on the waiting list are looking for a specific kitten and may end up passing until that kitten comes about.
The cost of our kittens are as follows:
Nonstandard Napoleon (long legs): starting at $700 (including altering and shots). Long leg Napoleons have the same beautiful doll-like Persian look and sweet temperaments as their short leg counterparts.
Standard Napoleon (short legs): starting at $1300 (including altering and shots)
The cost of each kitten is dependent on color, lineage, and conformation standards. Cats that display show quality traits will run a little higher. Kittens that will be used for breeding programs will carry an additional $500 breeding rights fee. Otherwise, all kittens will be sold as pets only and will be spayed or neutered before going home with the owner. Learn more about getting a kitten from us on our Tiny Lions Kittens page.
If you wish to get on a waiting list, you will have to fill out a questionnaire. Very few breeders require this, but we are concerned about where our kittens go after they leave us. Napoleons are very resilient and adaptable cats, and having other pets in the house will not prohibit you from getting a kitten from us. The questionnaire will help us understand your living situation, as well as to give you a chance to reflect on the consequences of bringing a Napoleon into your home. We can review your answers and give advice on how to incorporate your new kitten into your family. You can also find helpful suggestions on our Advice page in the menu.
If you have any questions, please don't hesitate to contact us at:
Home: (719)687-4484
Cell: (305)333-3186 (call or text)
Or email us at: cmrudy337@gmail.com
*If a kitten you have picked and placed a deposit on doesn't thrive to be sent home, you will be given the option of having your deposit refunded or chose another kitten from an available litter. If there is no litter available at this time and you choose to wait for one, you will be placed at the top of the waiting list.
Note:
International buyers: Please see information specific to purchasing a kitten from us if you are from out of the United States. You will find that information here.
Conversely, there are also good breeders trying to support the standards of Napoleons. Do your research. Contact TICA and CFF for advice and direction. When you find a breeder, speak to them. If they don't answer your questions, be wary of them. Many of the so-called breeders I tried to contact didn't even return my calls or emails. Some turned out to be spammers trying to collect email addresses. Always be on alert for a breeder who doesn't have a web site, or at least a Facebook page. Look for someone who provides a phone number, as well as an email address. If no phone number is provided on a web site, expect a response back by email in a timely fashion.
Getting a Napoleon (Minuet) is not a cheap purchase and should never be an impulse buy. The most likely scenario is that you will have to wait for your kitten to reach the age where he can legally be transferred to his new family (usually 12 weeks). More often than not, you'll have to get on a waiting list. You will probably have to put a deposit down to ensure that a kitten is reserved for you. This is normal practice for reputable breeders, who want to ensure that you are committed to taking care of a Napoleon.
When dealing with a reputable breeder, you should expect to have good communication with them about their cats and their cattery. You should be able to review a kitten's pedigree, or at least its parents' pedigree. The breeder should provide health certificates and immunizations for the kitten before it goes home with you. This is the least you should expect. However, a good breeder will also provide photos of your kitten's development and updates on his progress as you wait for it to mature. This was the most exciting part of the waiting process when I was looking for my girls.
What to expect when looking for a Napoleon kitten
Napoleons (Minuets) are a relatively new breed and they haven't flooded the market yet. We find that fortunate, because once unscrupulous breeders get it in their mind to start mass producing them, the breed will suffer. It is important to remember that responsible breeders are interested in developing the standardized traits into new generations of cats to keep the breed pure.
Be prepared to look for a good breeder. Don't look on Craigslist for a Napoleon and expect to find a purebred kitten. Take it from me, who spent several months looking for my first Napoleons, there are several phony breeders out there.

Disclaimer required by TICA for the use of their logo: This cattery has NOT been inspected by and is not endorsed by The International Cat Association, Inc.