Breeder of third generation Minuet cats, the pride of cat lovers, and the kings and queens of the cat world.
Gabrielle Landesclaw, Ellie, had her first litter on September 6, 2018. She had three longhaired male standard kittens, all looking very different from each other. Teddy, upper left, is a chocolate smoke and white bi-color. S'more, lower left, is a chocolate silver shaded mackerel tabby and white, and is showing signs of looking like his mom. Vincent, below, is another chocolate silver shaded mackerel tabby and white. All of them have gone to their new homes.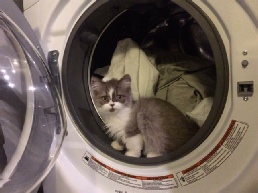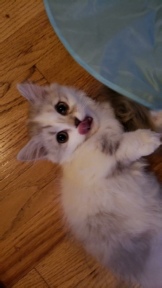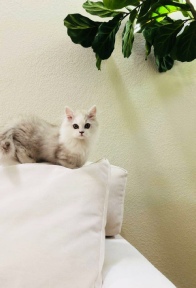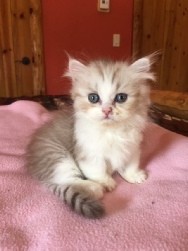 Claude's seventh litter was with Ellie (Gabrielle Landesclaw), which was their second litter together. There were two standard boys. The one on the left is Pillow, a chocolate mackerel tabby and white. To the right of Pillow is Neko, a silver shaded mackerel tabby and white, just like his mom. These little guys are doll babies. They grew up with Toby, May, and Smudge (above) and had an extended family.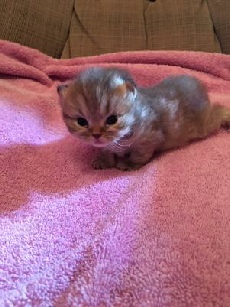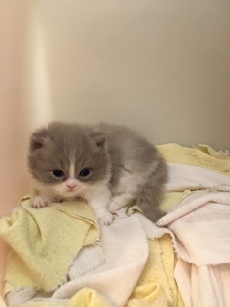 Ellie's third litter was a unique situation. We didn't use Claude, our stud. When Ellie couldn't conceive with Claude after her c-section on the second litter, we took her to a reproductive specialist. Tests showed nothing physically wrong with her, so the vet suggested trying another stud. A friend in Montana, Lynn Brown, of 406Paws, graciously allowed us to use Fleurdelis Indiana Jones of 406Paws (Indy) to see if Ellie could conceive. The union was successful.
On the left is Hugo, a nonstandard chocolate smoke torbie boy (yes, a torbie boy!). On the right is Deku, a chocolate smoke and white solid nonstandard boy. Two beautiful kittens from a stud on loan from 406Paws.